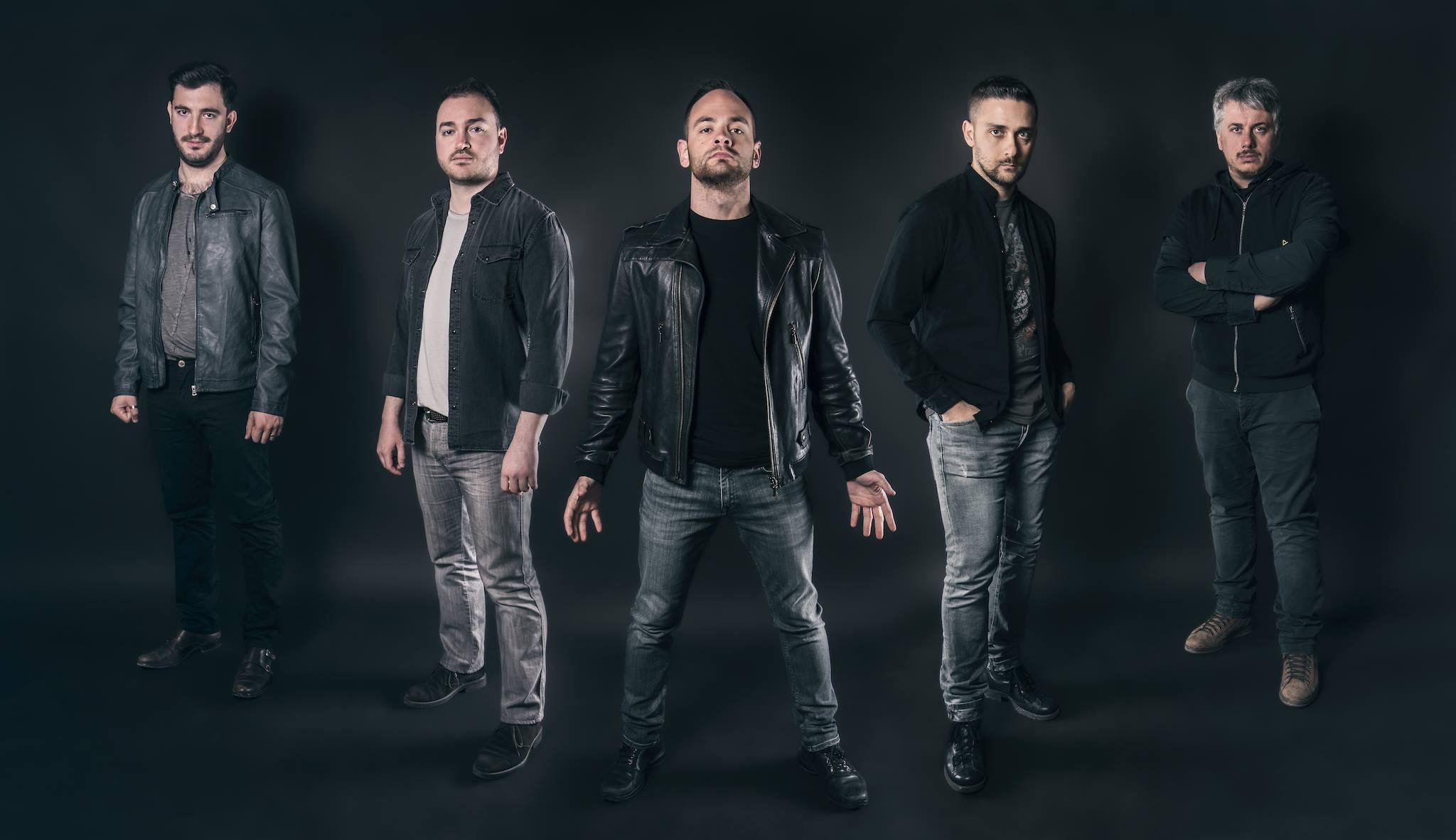 Hye Guys how are you ?
CC: Great, Tnx!
LDG: Hey! I'm fine, thanks
LDP: I'm good, thank you for having us AV: Fine thanks!
Who is who and who does what?
CC: I'm Claudio Casaburi, bass player.
LDG: I'm Luca Di Gennaro, keyboard player LDP: I'm Lino, singer
AV: I'm Antonio Vittozzi, and I play the guitar.
Could you describe your carreer path ?
LDP: a steep climb with a stunning view! The project started in 2004 thanks to Antonio Vittozzi's will to create a new band. He and the bass player called Antonio Mocerino on drums, a singer and a keyboard player. In 2005 this first line-up recorded a home made demo called "Never Care About Tomorrow" that featured two songs: "Eternal Lights" and "Inner War". The singer and the keyboard player left the band, so the lineup was completed by Michele Serpico and Luca Di Gennaro, long time friends of Antonio Vittozzi. This second line-up started thinking about writing some original material and composed a song called "First Creature". This song was played during a live and after a good feedback the band continued the writing process giving birth to an entire album: "Flowing Portraits". In 2007, just before entering the studios to record vocals, Michele Serpico had colitis and was unable to sing for a long time. In the studios the band got in touch with Mark Basile (DGM), who accepted to sing all the album as a guest, and with Davide Guidone. After listening the album he decided to join the project, becoming the band's manager. With him on board, the band was able to sign in 2008 under the american label ProgRock Records and to join incredible live experiences with Vanden Plas and Pendragon. The band then started writing new material and planned to record drums at Musa Muta Studio during February 2010. Five days before the drums recording, the bass player decided to leave the band. Claudio Casaburi replaced him and the band started searching a new singer as well. The album, later called "Closer To Daylight", was mixed and mastered by Markus Teske and signed under Galileo Records. In 2013 the band decided to change singer once again and welcomed me on board to write and record the third album and perform live, sharing stages with HAKEN and Neal Morse Band. Our third album, titled "4", was published on April 2015 and was played live opening the show to Vanden Plas, once again. Our next album, called "BABEL" will be released on July 28th 2017 via Pride & Joy Music and previewed at Night Of The Prog on July 14th 2017, opening the show to Mike Portnoy's Shattered Fortress (feat. Mike Portnoy, members of Haken and Neal Morse band).
Why this scene name Soul Secret?
AV: This is the name that our first singer gave to the band, then we kept it as our band name.
How would you define your music?
CC: Progressive! What else?!?
LDG: Constantly evolving and free. We play what we like, that's it. LDP: Prog in the way we love it
AV: It is a melting pot of genres, called progressive.
Music is (for you) above all a passion, a desire or a need ?
CC: Imagine that you need something you desire...that's passion! LDG: A need. Sometimes it saved my life!
LDP: Definitely a need
AV: A constant research, through the study and the knowledge.
If I told you French song, you say ... ?
CC: La Marseillaise.
LDG: La vie en rose!
LDP: La vie en rose... now I'm singing it!
AV: I know only French girls
Tee or Coffee ?
CC: Coffee. Espresso. In cold porcelain cup. First sugar, than coffee. Vices... LDG: A damn fine cup of coffee
LDP: I'm from Napoli and I surely have to say a cup of dark, strong neapolitan espresso coffee. I have it four-five times a day. But I like tea too
AV: Both, it depends on moment.
What are your sources of inspiration for writing your lyrics ?
LDG: Well, talking about "4" and "BABEL", I had inspiration not for the actual lyrics but for the story. I start with an overall plot to be splitted in chapters and every chapter is a song. On "4", I was helped by Antonio Vittozzi because the first draft was too difficult to follow, so we reworked it together. On "BABEL" the band gave me carte blanche, so I started writing the story in 2014, in order to have enough time to work on it. After writing the first draft, my girlfriend gave me a book called "La sfida di Babele" (The Babel's challenge) who contained an interesting chapter written by Ottavio Di Grazia who analyzed the myth and inspired me about the various reactions to the mission, that are included in "Will They?" and "The Cuckoo's Nest".
Studio or live ?
CC: Both. A good studio album can suck live and a bad studio album can damn tear roofs down live. So both.
LDG: Live, absolutely. As my piano teacher always said "It's the only time a musician really plays". We receive and unbelievable feedback while on stage that really pays for all the efforts we put in this project.
LDP: Live, even if I love working in studio. Performing for other people is always special. AV: Live, the only fuel of the band.
BB King, Steevie Wonder or Johnny Cash ?
CC: Stevie Wonder!
LDG: Stevie Wonder!
LDP: Stevie Wonder, for me the greatest music legend alive! AV: Stevie Wonder
The song that puts you in a good mood in the morning
CC: Super Mario Soundtrack. You know, when he grab the star!
LDG: "Gimme Some Lovin" by Spencer Davis Group
LDP: Everyday a different one, but "Don't stop me now" by Queen makes you feel great everytime. AV: It changes constantly, now I'm in love with the last album of Allen Hinds.
I'll meet you in a cafe with an international star of the song! Who would this star be?
CC: Well, Larry Graham or Victor Wooten!
LDG: I would love to drink coffee with a soundtrack composer, like John Williams or Angelo Badalamenti
LDP: As I said before, Stevie Wonder. The best one outside there!
AV: I would love to have free time with Mark Lettieri, Julian Lage or Allen Hinds.
Classique, rock, électro, jazz or hard-rock ?
CC: ...and Funk, Metal, Pop, Dance, AOR, ...
LDG: The five of them!
LDP: Everyone. But if I have to choose... I'll pick the good old rock.
AV: Music is music!
What's your best stage memory?
CC: The last tour with Vanden Plas, it was AMAZING!
LDG: last year, at Art Rock Festival IV in Reichenbach (DE). A lot of people came just for us and our album "4" went sold out!
LDP: The second live show ever with Soul Secret, at De Boerderij in Zootermeer (NL), opening act for Haken. It was all new for me and I found myself singing for a huge and great crowd. First time I saw several people singing with me some of our songs. One of the best emotions of my life.
AV: My first live with Soul Secret in 2008, my heart was like a train, and my legs were shaking. We had passion and fear, I miss that time a bit, I'm a nostalgic!
You are given the opportunity to realize your dream, what would it be?
CC: Maybe all the pedals, stompboxes and effects always available everywhere!
LDG: It's an easy answer for a musician. A big room with every kind of instrument in it, ready to play :D
LDP: To work on our music in a completely free way! AV: Let the music be my work.
Last question to close this interview, we wish you anything for the rest of your musical career?
CC: Continue playing for us, for our actual and future fans!
LDG: I really hope to continue this adventure with the same passion we had until now, always energised by our incredible fans around the world.
LDP: Just have the chance to trip around the world, spread our music and show our fans and other people what we can do.
AV: Writing and selling music is really hard nowadays...I hope to continue this path.
Thank you very much for answering my questions, I wish you a beautiful continuation in the art world.
CC: It has been a pleasure! Au revoir!
LDG: Thank you for this interview, bye!
LDP: Thank you very much! See you next time
AV: Thanks for this opportunity.
Crédit photo : Luigi Manzo